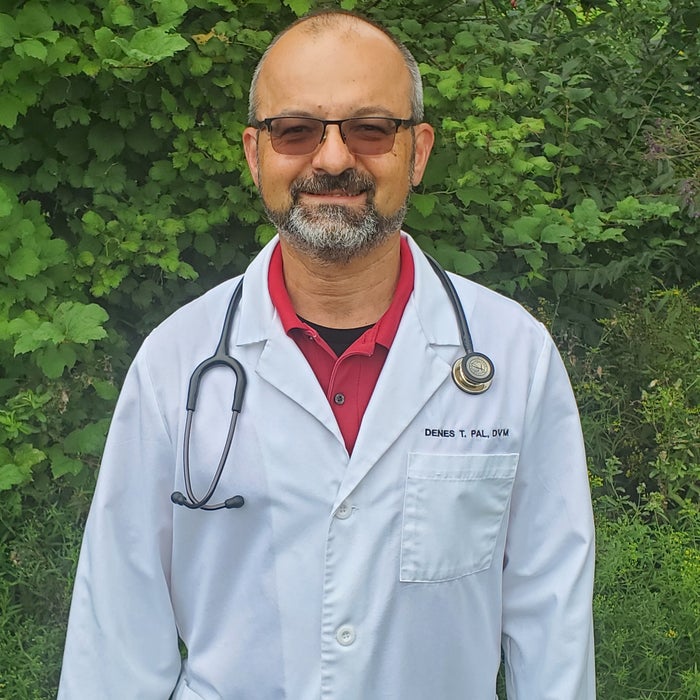 Dr. Denes T. Pal DVM
Education: University of Veterinary Sciences of Budapest
Years in Practice: 29
Dr. Pal graduated from the University of Veterinary Sciences of Budapest, Hungary in 1992. He permanently moved to Cleveland, Ohio in 1993 and started working in the surgery department of the Veterinary Referral Clinic in Bedford Heights, Ohio. In 1995 he took the position of an emergency veterinarian at the Emergency Pet Clinic and he remained there until 1999. In 1997 Dr. Pal and his family purchased Danielle's Boarding Kennel in Strongsville, Ohio and he opened his veterinary practice there.
In 2003 a new addition on the existing kennel building was completed, so now he could provide state of the art veterinary care in a friendly spacious environment.
Dr. Pal lives with his wife and two children on a nearby farm. They have four rescue cats and two rescue dogs.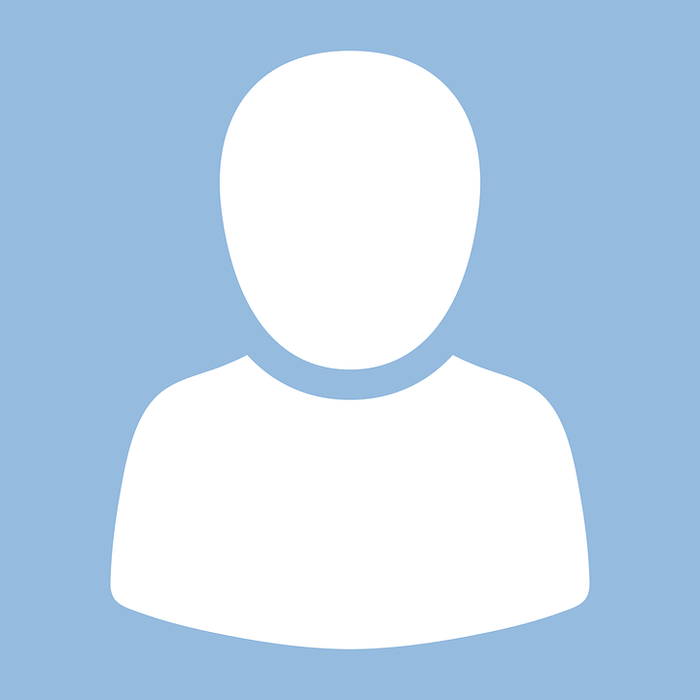 Dr. Denise Igoe DVM
Education: Ohio State University
An Ohio State University graduate, Dr. Denise Igoe has significant experience as a former practice owner in small animal medicine/surgery and emergency medicine. Dr. Igoe is certified in veterinary chiropractic and veterinary acupuncture with her special interests in lameness and athletic performance. Her other interests include showing horses, design, and gardening.
Dr. Tricia Eureka DVM
Dr. Eureka graduated from The Ohio Sate University College of Veterinary Medicine. Her interests include behavior and medicine. She resides on a small hobby farm with her husband, 2 dogs ( Crown and Meatball), 3 cats ( Leo, Gray and Thackery), 2 Geese ( Louise and Rachel) and 2 Sheep ( Kimberly and Stompy).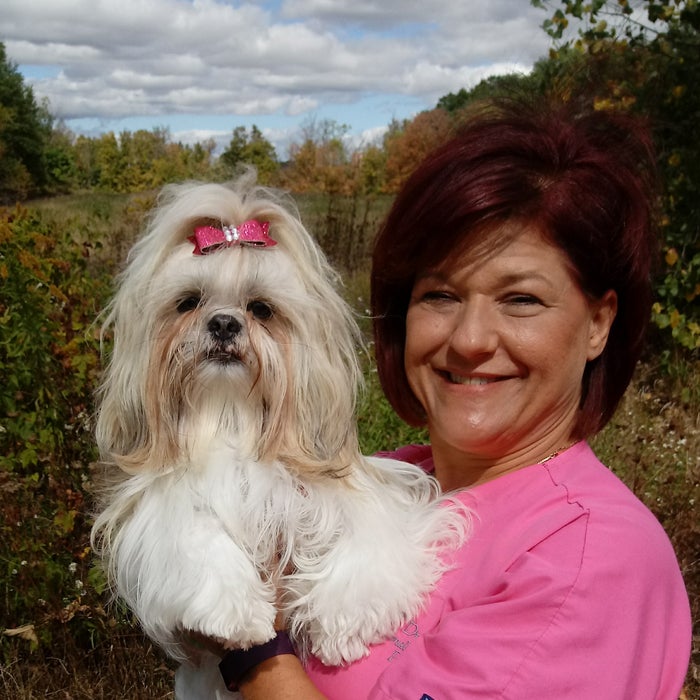 Lisa Manager, RVT
Years in Practice: 15
Education: Cuyahoga Community College
Lisa has been working with Dr. Pal since November of 2006. She graduated from the Veterinary Technology Program at Cuyahoga Community College's Western Campus in May of 2011. Lisa is married with one daughter and she has two cats; Binks and Simba. Lisa is also a grandmother to her daughter's cat, Zazu.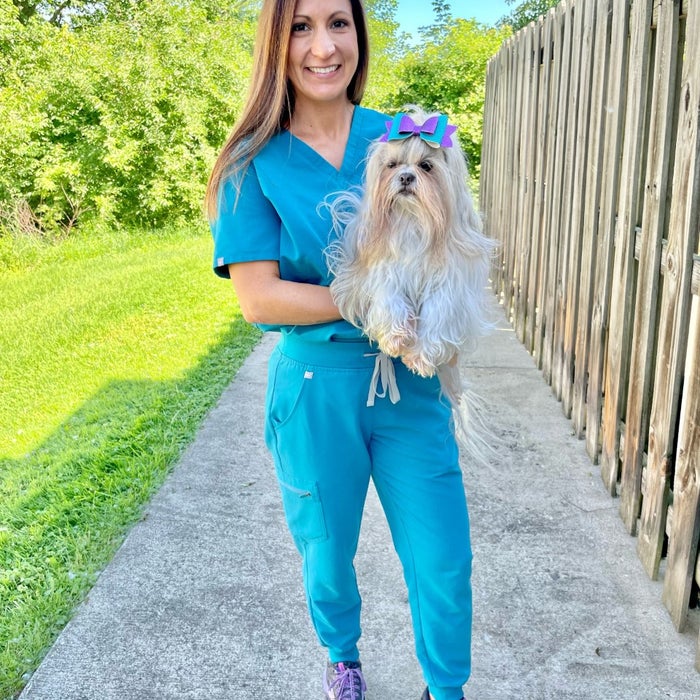 Sarah RVT
Years in Practice: 15
Education: Cuyahoga Community College
Sarah is a Registered Veterinary Technician. She graduated in 2006 from Cuyahoga Community College where she received an Associate's Degree in Veterinary Technology. She has been working at Dr. Pal's since 2006. Sarah has three dogs Haisley, Kenzie and our clinic dog, Iggy. She loves elephants and gardening.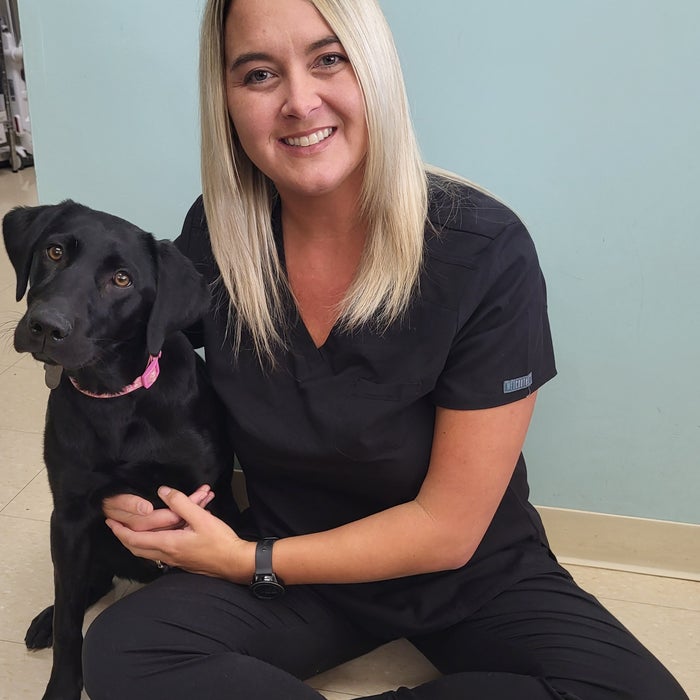 Jessica Receptionist
Years in Practice: 11
Jessica has been working for Dr. Pal's Small Animal Practice as a receptionist since October of 2010. She loves to play sand volleyball and spending time with her family.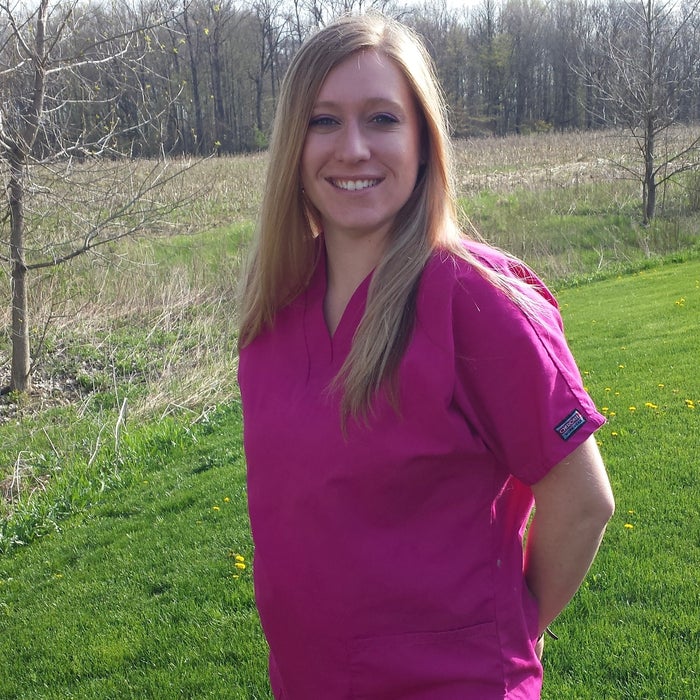 Chelsea
RVT, Groomer
Years in Practice: 18
Chelsea has been working at this facility since 2004. She graduated from Animal Care at the Medina County Career Center specializing in the grooming of pets. Chelsea also graduated from Stautzenberger College with an associates degree in Veterinary Technology. Chelsea is married with a baby on the way. She has a Bull Mastiff named T-Bone, an American Bulldog, Scarlett, a cat named Harley, some chickens and a leopard gecko. She enjoys crafting, being outdoors and gardening.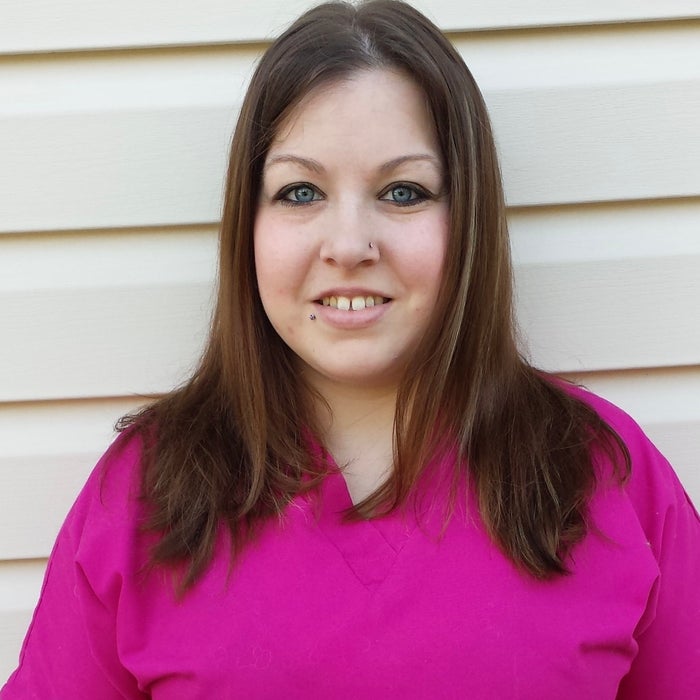 Laura Groomer
Years in Practice: 9
Laura has been grooming at this facility since 2013. She graduated in 2003 from Animal Care at the Medina County Career Center, specializing in the grooming of pets and has been grooming ever since. Laura has rescued Pomeranian's, two cats and two turtles. She enjoys spending time outdoors and playing board games with her family.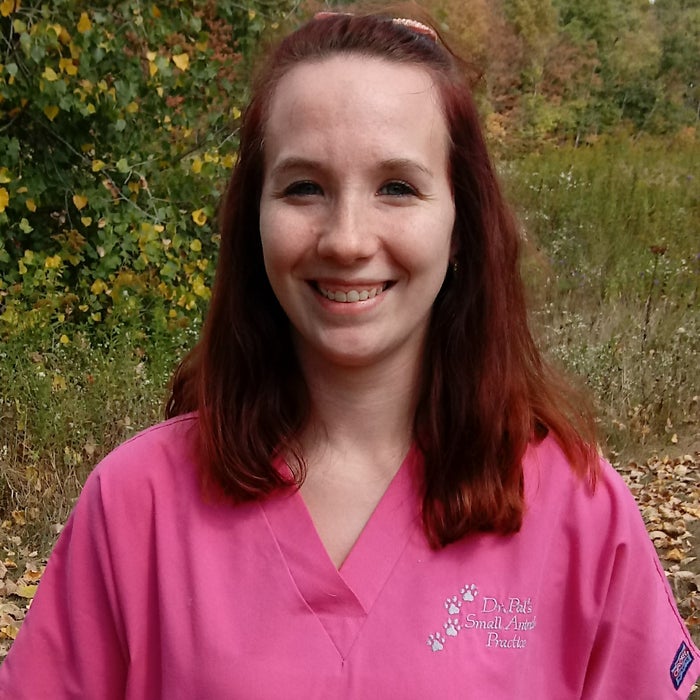 Melissa Veterinary Assistant
Years in Practice: 6
Melissa has been working as a Veterinary Assistant at Dr. Pal's since October 2016. She graduated from Animal Behavior College in 2015. She loves her cat Milo and crafting.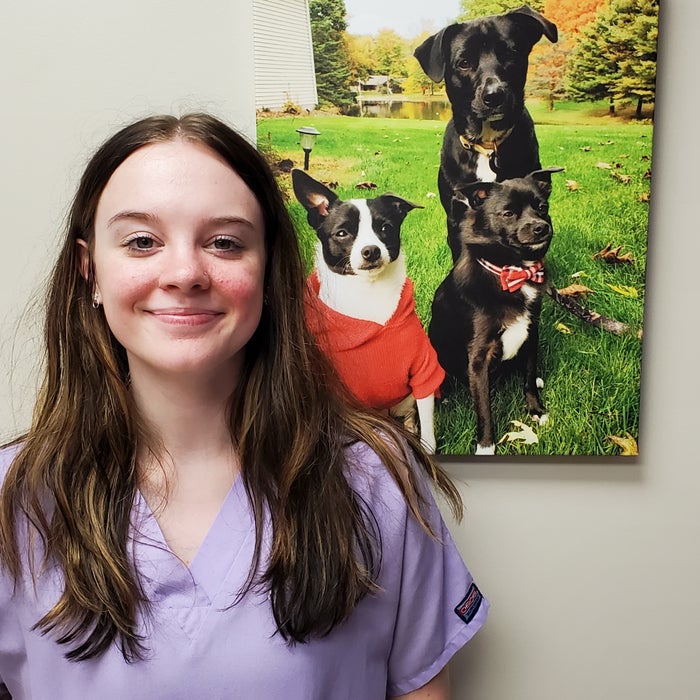 Lindsey Receptionist
Years in Practice: 1
Lindsey has been working as a Receptionist at Dr. Pal's since July 2019. She is studying to become an interior designer. She loves watching movies and drawing.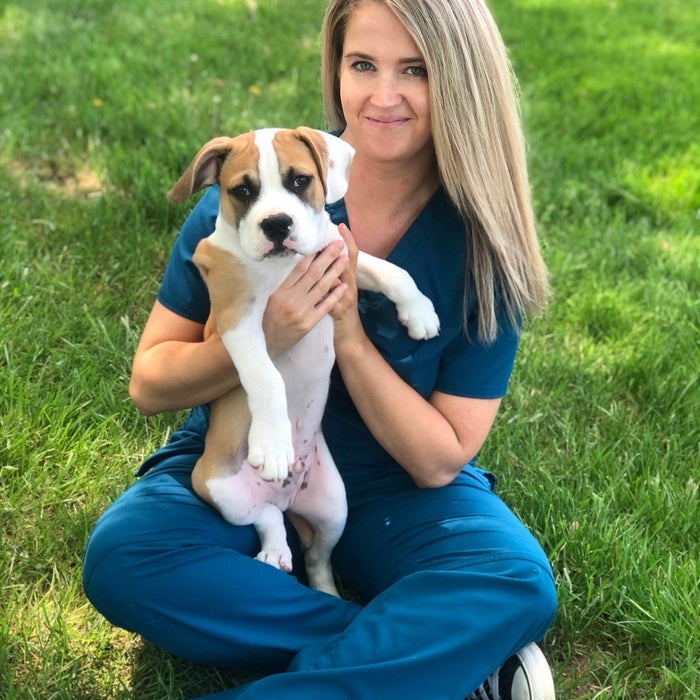 Jennifer
My name is Jennifer and I have been with Dr. Pal's since September 2021. I have recently re-enrolled in school to become a vet tech. I have 2 bulldog mixes and 1 pitbull at home. In my spare time I like to sew and macrame and spend time outside with my dogs!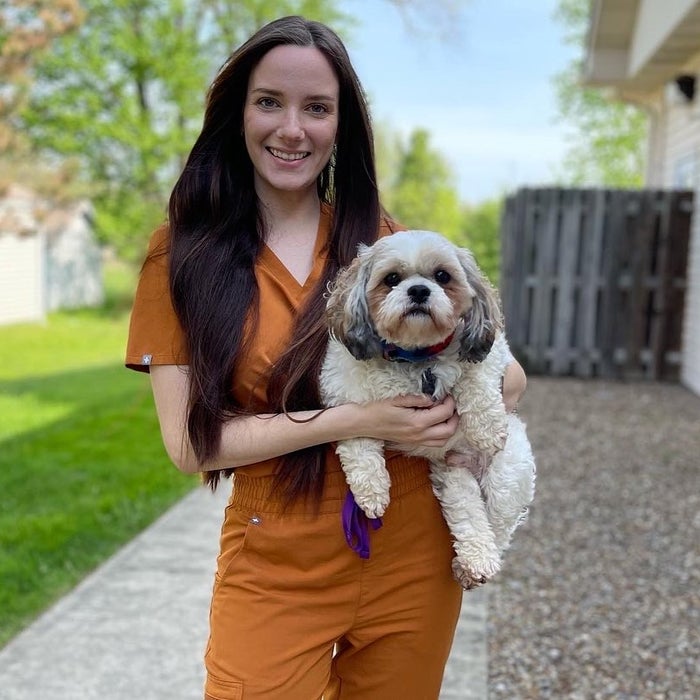 Alexis
Alexis is currently studying Biology with a minor in Chemistry at the University of Akron with the hopes of attending vet school in the near future. She has 3 dogs (Captain America, Gene, and Ivy), 3 cats (Louise, Jeff, and Azula), a Holland lop (Danny Devito), and many reptiles. Alexis has a passion for traveling, wildlife conservation, and research. She spends her free time exploring the Metroparks with her dogs, bowling with her friends, and reading.